"Türkiye'de yaşayan tango dostlarımızın Türkçe Sitemizi kullanmaları gerekmektedir"

Sultans of Istanbul Tango Marathon & Festival
15 – 21 November 2023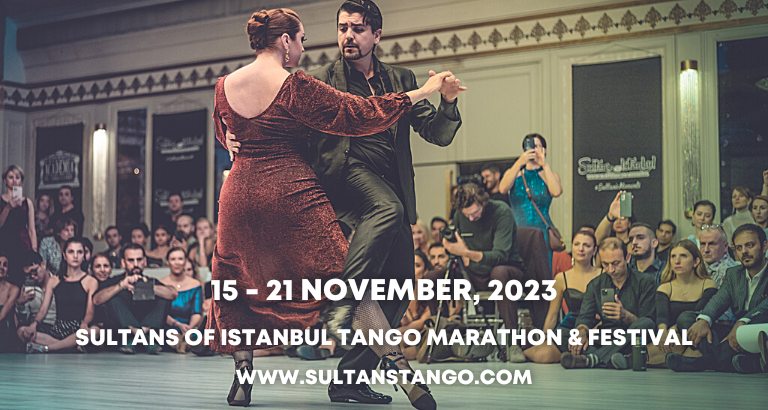 Registrations will start at May 2023!
Sultans of Istanbul Tango Marathon & Festival was happily celebrated in April'23. Our spring edition was embraced by over 400 dancers from all over the world. And today we can still hear its echoes from all over the world!
Lots of beautiful tandas, emotions, words, videos, and photographs were shared about those amazing seven years of our event, and we are thankful to each one of you who joined us in the last editions. As 'Sultans' continues to have such an enormous impact we believe that our party will become more beautiful now that we some good news to share: Our Autumn Edition will be on 15 – 21 November 2023.
Our Autumn edition will take place in marathon & festival format like in the previous years with some beautiful innovative ideas.
Sultanic Cast of 2023
Sultanic Cast of 2023
Strictly Good Music
Amazing Visual Team
Autumn Edition Concept
To be a part of the event you need to register first, then receive an acceptance mail AND FINALLY a confirmation from us.
​​So, please do not make any plans before you receive the acceptance and the confirmation by e-mail. Marathon packages will be distributed according to gender, nationality, dance level and other carefully chosen criteria. We plan the event for 500 people (+/-%10).
Our event will start at Wednesday milonga and will finish with Sunday night milonga.
We will dance 55 hours during the event.
To attend marathon milongas you should register online for the related packages. There will be no tickets on the spot for those milongas.
It is up to you if you want to register with or without accommodation options. But to have the best possible Sultanic moments, we strongly advise you to select the accommodation option in our event hotel. Sultans is budget friendly and includes several qualities in one single event.
Marathon Packages & Prices
Sultans of Istanbul Autumn Edition will be in Marathon & Festival concept.
Friday (Day+Night) & Saturday (Day+Night) and Sunday Day milongas can only be visited by marathon package owners. So, there will be no single milonga tickets on spot for those milongas.
In other hand single milonga tickets for Wednesday, Thursday, and Sunday Night milongas will be available on spot.
All marathon packs will be delivered according to our criteria's; Gender & nationality balance, dancing experience, positive attitude towards others is some of our criteria's.
We accept both, single and couple registrations. Please note that the type of the registration is not an acceptance criterion for us, but also keep in mind that we have a limited number of single registrations for both followers and leaders.
There are two basic options for you, with or without accommodation pass.
Water, Coffee, and Tea will be free during the maraton period. Also, there will be snacks options to buy.
Marathon Pass Without Accommodation
The pass includes milongas starts with Friday day milonga and finishes with Sunday Afternoon milonga. Pricing for Marathon Pass will be announced soon.
You can seperately book Wednesday, Thursday, and Sunday Night milonga tickets via our website through the registration form.
Marathon Pass with Accommodation by Us
Marathon pass owners with accommodation can participate in the day & night milongas for the nights that they are staying in the event Hotel.
The minimum is three nights for accommodations.
Pricing for With Accommodation Marathon Pass will be announced soon.
You can select a single, double or a triple room. In a single room you will have one big bed, in a double room you can have either one big bed or two separate beds. In a triple room all beds are separated.
For triple rooms bed sizes can be different.
If you have a partner and want to register to the marathon together with accommodation option, you can also stay in different rooms. In that case, in our registration form, we ask separately for your roommate in our registration form.
In case you choose a double room & triple room without a partner, you may find roommates by sharing a post in our facebook group.
In case you can't find a friend, we might offer to look for a roommate for you. Of course, we do our best to match you according to gender and same check-in and check-out dates. But please know that you must accept the roommate we have found for you.
In case we can't find a perfect match for our criteria's, we will let you know what we can offer. Please keep in mind that its always better to find your own roommates.
If your check-in and check-out dates with your roommate/s are not the same, the one who stays longer, is obligated to pay the extra room price for those nights.
Due to the hotel rules, we must also increase the prices of the rooms after the first 60 rooms. Price changes are all applied since more than 60 rooms are booked.
Breakfast is not included in our prices, but you can choose an upgrade room at the registration desk at arrival.
It's not possible to stay with a non-tango friend or non-tango family member. Except if you have a child between 0-6 years. If your child is older than there will be a 10€ price difference for this extra bed for each night.
Rooms for each participant with accommodation in Gayrettepe Dedeman Istanbul Hotel will be booked by our registration system.
People who stay in the hotel can use the hotel pool, fitness area and WiFi for free.
Pricing for Non-Marathon Milongas
If you haven't selected an accommodation package by us, Wednesday, Thursday, and Sunday night milonga fees will be announced soon.
Milonga Program
Our lovely gathering will start on Wednesday, the 15th of November and will end on Monday, the 21 th of April. We will dance more than 55 hours in 5 days. Detailed program will be announced soon.
Top 7 Reasons to become a Sultan!
Venue & Accommodation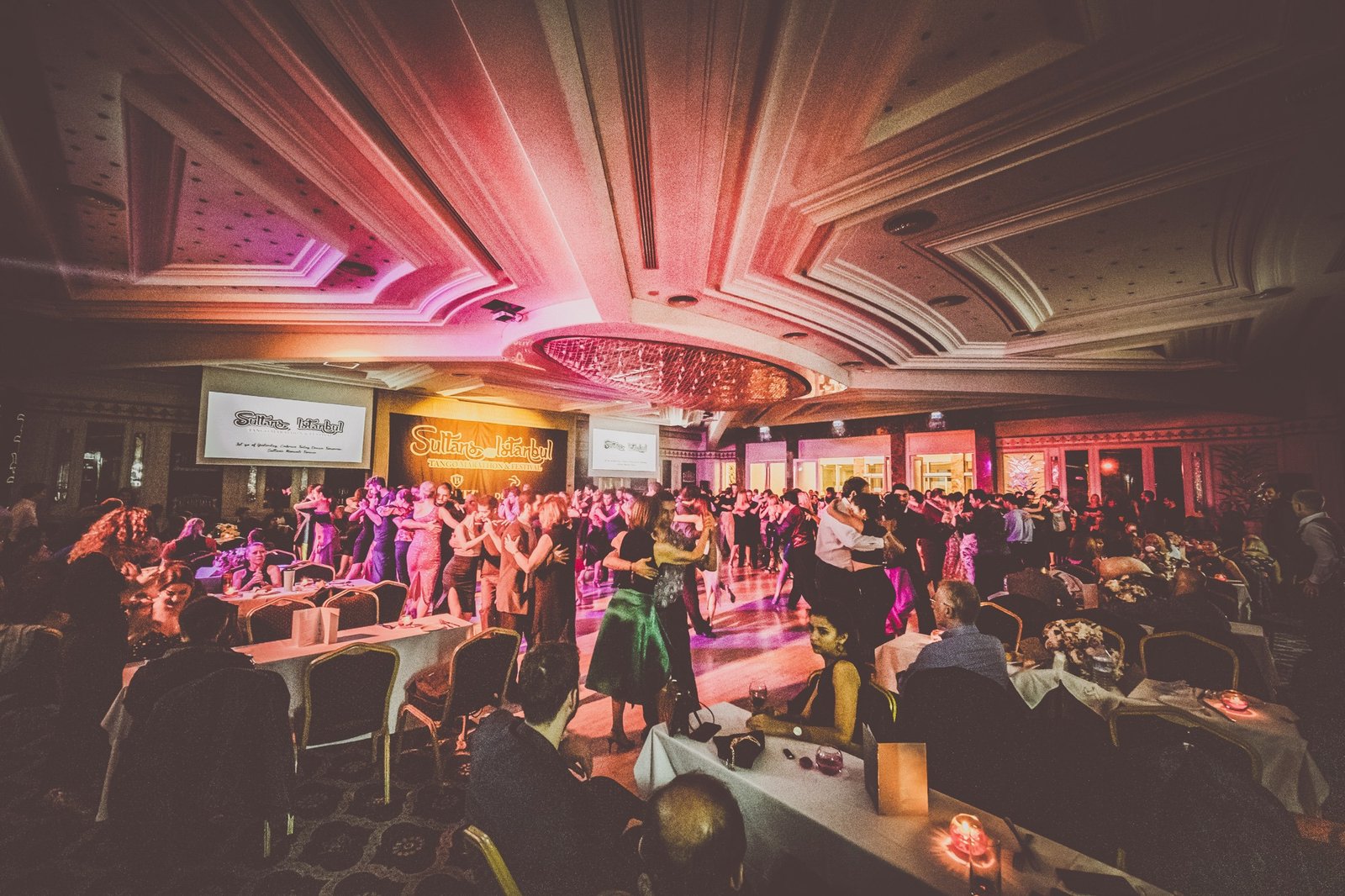 Let Go of Yesterday, Embrace Today, Dream Tomorrow.
Sultanic Moments Forever
Dedeman Gayrettepe Istanbul Hotel is the place where we organize all festival & marathon events, workshops, and fun. The hotel is our marathons hotspot which is why we strongly recommend you choose the accommodation packages. All the milongas (Wednesday, Thursday, Friday, Saturday, Sunday) will be held in Dedeman Istanbul's Ballroom.
Dedeman Gayrettepe Istanbul Hotel is a five-star hotel, designed as a modern city hotel. It continues to share its 30 years of experience with guests from all around the world. The hotel is in the heart of Istanbul, just few minutes away from major business and shopping centers, and it is the perfect choice for tango lovers.
The rooms are all at least 18.5 sqm (199 sq.ft.) in size and are as comfortably appointed as they are tastefully decorated, a hallmark of Dedeman hospitality. All of them are equipped with a flat screen LCD TV with satellite, along with a minibar and an in-room safe.
Hotel's SPA has outstanding treatments in facials, massages, body treatments, makeup, and hair care. With their top professional aestheticians and massage therapists, it's a heaven getting yourself pampered. Also, a Turkish Hammam and swimming pool will totally help you get relaxed.​
Dedeman Gayrettepe Istanbul Hotel has a magnificent, beautifully decorated ballroom with the size of 500sqm without columns. The ceiling's height is 4.5 meters which provides dancing in spacious surroundings.
The friendliest accommodation prices are waiting for you! Make sure you get them and register via our web page!
Cancellation Policy
THERE WILL BE NO REFUNDS FOR CANCELLATIONS
Bookmark Sultans of Istanbul Spring Tango Marathon 2024!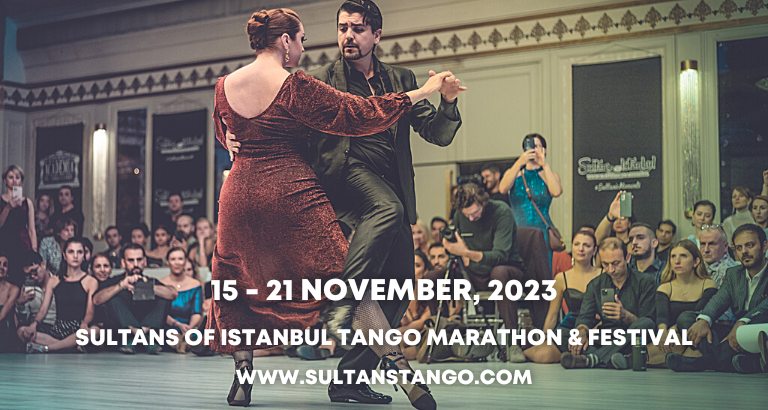 Contact
Please email us for anything you need. We will do our best to support you, as always.
e-mail: info@sultanstango.com